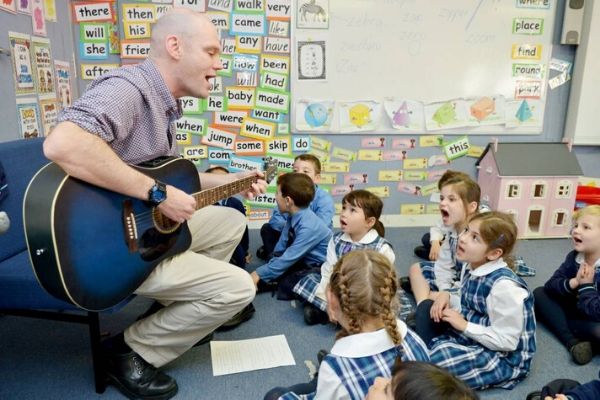 A teacher from Kogarah has become a global phenomenon in the digital sphere of music education.
Dan Colquhoun's YouTube channel has reached 3.2 million hits with his songs that he plays for classrooms all over the world.
The Aussie teacher 'tuber' from St Declan's Catholic Primary School at Penshurst, is known online as 'Rocking Dan Teaching Man'.
Mr Colquhoun creates catchy, rock-and-roll music-based lessons with his guitar, and writes songs on what pupils learn in class, to help them succeed in literacy and numeracy.
"I struggled at school because I'm dyslexic, which meant I had trouble with difficulties with reading and writing," he said.
"[Because] I struggled to learn in a conventional way, I tried to find a way to help all children learn concepts they might have difficulty understanding.
"Music and movement have a really positive impact on children's learning.
"It adds another dimension rather than someone talking in a classroom, and it's easier for children to remember something if its put to music."
His biggest audience in the US.
Mr Colquhoun says it is wonderful to have his musical educational work recognised.
"It's incredible to think that my music and animations have been seen in so many different classrooms by so many children from around the world," he said.