Dear parents and friends,
I warmly welcome you to the St Declan's Catholic Primary School Penshurst. As Principal of the school, I am passionate about a holistic education for every student. One where their individuality is celebrated and they are challenged to continually reach their potential.
St Declan's is a well-equipped, technology-vibrant primary school committed to our dual moral purpose of providing every student with a high quality education and developing in them an authentic and meaningful faith in partnership with parents and our parish.
Our teachers ensure they provide learning experiences that are accessible to every child and give them the opportunity to grow. Guided by our Vision for Learning: 'Engage – Create – Collaborate' we strive to ensure learning is contemporary, engaging and taps into the intrinsic motivation to make students curious and want to find problems as well as solve them.
Our school motto, 'Never see a need without trying to do something about it," challenges us to live out the Gospel message in the same way that Mary MacKillop did, through service and love of others. We strive to be Christians of the 21st century!
At St Declan's we aspire to develop in all students a love of life-long learning, growth mindset and a passion for making a difference in our world. We look forward to the future with hope and trust in God.
In Christ,
Mr Peter Cranney
Principal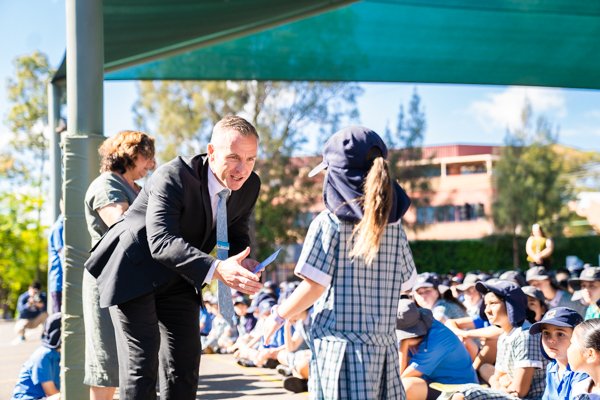 Proudly Part of the Community of Sydney Catholic Schools
Our school is part of a system of over 150 low-fee Catholic schools in the Sydney Archdiocese.
Sydney Catholic Schools are thriving Catholic communities that ignite a love of Christ through excellent teaching and learning to empower students to reach their full potential.