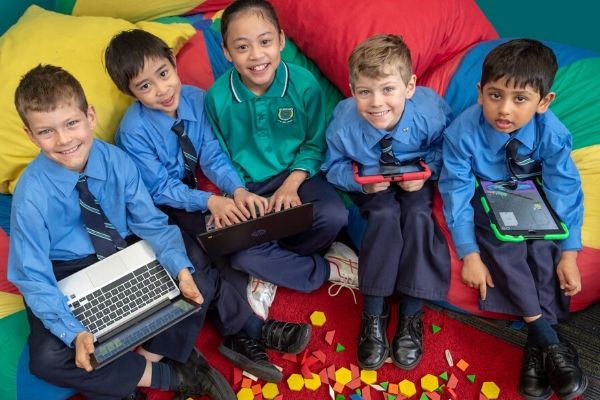 St Declan's Catholic Primary School Penshurst has topped NSW in a six-day mathematics challenge, taking student interest in the subject to new heights.
Students from Kindergarten to Year 6 joined hundreds of schools in Australia and New Zealand to complete the Matific competition in August. The school placed first in NSW, second in Australia and had five students from mixed grades in the competition's top 10.
The game format of the challenge saw students rewarded for accuracy with 'monster' avatars and points, and drew on their problem-solving and arithmetic skills.
The buzz around numeracy at the school on those six days was incredible.
Mathematics coordinator Zora Bunoza said the program was a valuable tool to promote mathematics and numeracy across the school.
"It encompassed our vision for learning which is to engage, create and collaborate," she said.
"The students had to know a lot of facts as well as be able to navigate problems. The buzz around numeracy at the school on those six days was incredible. The children loved it. It was lovely to see them come up to me in the playground and share how much they loved Matific. The parents were very supportive of the challenge and gave great feedback on how much their children had learnt."
The whole-school collaborative effort was also rewarded with eight class prizes and 11 student prizes. The school's top performing students came from a range of grades.
Although it's very educational it's really action-packed, which makes it engaging.
Kindergarten student Rohan Chandy, 5, was the youngest to ace the questions, followed by two pairs of siblings: Year 1 student Tyler Quinn and brother Lachlan, in Year 4, and Year 3 student Keon Castillo, and sister Keisha in Year 5.
Mrs Bunoza said the mathematical game platform and competition was merely a tool to complement what was taught in the classroom. It covered the technology part of the NSW curriculum, while keeping young digital natives engaged in their learning.
"It does put things is a fun and engaging way for them so they just want to keep on learning and keep on playing," Mrs Bunoza said. "It doesn't replace the teacher by any means. We assign tasks that complement what is happening in the classroom for that week. If we're learning about division, it will be division that we assign to the student."